Quick Fixes and Home Staging Tips
What Stays When Selling?
Indoors
Free-standing range/oven
Built-in appliances
Light fixtures
Ceiling Fans
Towel, Curtain & Drapery Rods
Draperies & Window Coverings
Attached Floor Coverings
Flush-Mounted Speakers
Attached Fireplace Equipment
Window & Door Screens
Sun Screens
Storm Windows & Doors
Shutters & Awnings
Garage Door Openers & Controls
Attached TV/Media
Stoves:

Pellet
Wood-Burning
Gas-log
Outdoors
Antennas/Satellite Dishes
Landscaping, Fountains, & Lighting
Water-Misting Systems
Solar Systems
Timers
Mailbox
Storage sheds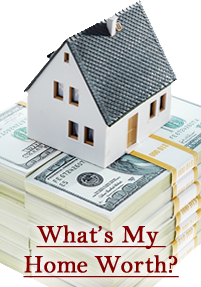 Will You Need a New Home?
We can help you find a new Sedona Property Too.
Start your search for a New Sedona Home with our Free Sedona MLS Search.
Sell your Sedona Property faster!
Disassociate yourself emotionally. Realize the house is your property and that your family's memories will not be sold with the home.
De-personalize the house to ensure that buyers can view the house as their future home, not your past home. Remove all personal belongings, i.e. photographs that are hung on the wall or sitting on end tables.
"Pre-Pack" your house. Remove all knickknacks, collections, and items just sitting around. If you haven't used a particular item in over 6 months, donate it or toss it out. Think of this "pre-packing" as preparation for your move. The more you are able to pair down now, the less you will have to when the house sells - so don't procrastinate. Buyers can't seem to see past alot of clutter and personal belongings. Help them visualize what it may look like if they were to own it and de-clutter as much as possible now!
Organize Closets! The more organized you are in the closets the better:

Line up shoes
Color-code your hanging clothes
Make clothes piles orderly and facing the same way
Turn all cup handles the same way
Neatly stack dishes
Alphabetize spice jars
Organize the food in your pantry too

Buyers will look in your closets, the more organized your cabinets are, the more your home will stand out to the buyer.
Rent a Storage Unit to store excessive pieces of furniture. Leave just enough furniture for buyers to see the purpose of each room. Remember, one small couch and an end table will give buyers room to walk around and it will make your living room appear much larger than it may with a couch, end tables, a corner chair, and a loveseat.
Remember - If a buyer never sees it, they won't want it! If there are items that you will want to keep after the sale, such as fixtures, a chandelier, built-in appliances, or even window coverings, REPLACE THEM NOW. The buyers will not anticipate something staying if they knew it was there.
Fix Minor Problems

Consider a fresh coat of neutral paint
Patch holes in walls and doors
Fix a leaking faucet
Replace burned-out light bulbs
Fix drawers that don't open well
Re-caulk tub and showers
Replace an old bedspread
Switch out cracked tile (floor or counter) with new tiles

Clean the House Until it Sparkles

Clean out cobwebs
Vacuum Often
Get the floors waxed
Polish faucets in bathrooms and kitchen
Dust EVERYTHING: furniture, ceiling fans, light fixtures - Repeat often
Rent a pressure washer and spray down sidewalks and driveway
Wash windows inside and out
Get rid of all odors! Leave windows open when there is a breeze to air out musty smells

Examine Each Area in each room from the doorway. Start by walking in the front door. Make sure décor on the walls (if any is necessary) is hung straight, along with window coverings. Imagine that you are the buyer as you stop in each doorway. Does the home welcome you? Would you want to buy your home?
Stand at the Curb & Ask Yourself:

Is the lawn mowed and bushes trimmed?
Are the sidewalks and driveway cleaned off?
Can you clearly read the house number?
Does the yard and house look appealing in every aspect?
If the buyer is turned away by the presence of your front yard, they won't see the inside of your home.
Make sure your house makes an impact to every buyer from the moment they drive by!