Sedona...
How It Was Named
Around the turn of the 20th century, approximately 15 families were homesteading the area. Around that time, a man named Theodore Carlton Schnebly brought his family to join other relatives in the area. Theodore (Carl or "T.C." for short) joined his brother, Ellsworth, near Oak Creek and dabbled in multiple businesses.
Close to where the Los Abrigados Resort and the Tlaquepaque Marketplace currently resides, T.C. organized the first Post Office. As part of the requirement for mail to come through, the Postmaster General from Washington D.C. required the area to be named.
The first few suggestions, "Oak Creek Crossing" and "Schnebly Station", were denied because they were too long for the postmark. Finally, Ellsworth suggested T.C. should try to use on of his family members' names. On June 26th, 1902, the application was approved and the area was named "Sedona" after T.C.'s beautiful wife, Sedona Miller Schnebly.
On the list of "The Ten Most Beautiful Places in America", Sedona was nominated #1 in 2003 by USA TODAY. Surprisingly after this designation Sedona continues to house a small town atmosphere with the abundance of tourism and scenic beauty. In addition, Sedona boasts top-notch restaurants, numerous cultural activities, and a community that supports each other.
Sedona, AZ Weather
Many people choose Sedona for its great weather. Sedona is ideally located between the extreme heat of the Phoenix desert during summer and the snow top mountains and forest of Flagstaff in winter. We have beautiful blue skies during all of our four mild seasons. With an elevation of 4,500 feet our typical summer days are in the 80s and 90s (with occasional days over 100 degrees), our summer nights cool down to a low in the 60s. Our winter's highs are typically in the 50s with occasional days in the 70s and others in the 30s. Snow hardly ever interferes with local activities as we typically get about 8 inches of snow a year that almost always melts by noon the next day.
Proximity to Sedona
Sedona is only a 45 minute drive to Flagstaff, a larger city which has essential stores such as Sam's Club, Wal-Mart, Home Depot, Staples, and an enclosed mall full of department stores, 20+ screen movie theaters and excellent restaurants. If you travel 1½ hours south of Sedona you will reach Phoenix City limits. Phoenix is full of great shopping and has an international airport, making travel to and from Sedona convenient. With Sedona's central location there are many places you can drive to for day or weekend trips. Close places include: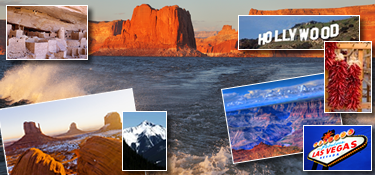 Canyon De Chelly (4 hours)
Durango, CO (5½ hours)
Grand Canyon (3 hours)
Lake Powell (3 hours)
Las Vegas, NV (4 hours)
Los Angeles, CA (7 hours)
Monument Valley (3½ hours)
Rocky Point, Mexico (6½ hours)
Santa Fe, NM (5½ hours)
The natural beauty in Sedona and surrounding it makes outdoor activities one of Sedona residents' favorite things to do. There are activities for every energy and skill level. Hundreds of hiking trails including designated trails for people with pets, handicap accessible, mountain biking and 4-wheel drive trails. Along with hiking there are numerous places to enjoy the creek, state parks and other sightseeing opportunities. Click Here for Sedona Sightseeing Locations.
Sedona Cultural Events
Sedona residents and visitors also enjoy the various cultural events in Sedona. In addition to the nationally accredited Sedona International Film Festival there is our signature "Jazz on the Rocks" festival, Taste of Sedona, and many other companies that present shows throughout the year. Companies include: a local Shakespeare festival, an opera company, a ballet and modern dance company, chamber music society and dozens of art shows including the nationally known Sedona Arts Festival. Internationally known as an artist's community, Sedona is home to over 400 artists and 45 local art and sculpture galleries.
Sedona, AZ Community
Sedona's sense of community is very strong; there is nothing cold or impersonal about the area. With over 100 organizations to get involved with, reconnecting and building a social circle is quick and easy. Sedona's charm is a combination of natural beauty, an impressive cultural/art scene, community events and most importantly, the friendly people that pull it all together. We are happy to welcome you to our unique and beautiful home. Please contact us for all of your Real Estate needs.
If You're Ready to Move to Sedona
Click Here to start your Free Sedona MLS Search.