Home Buying Tips
Things to Consider:
Size and Floor Plan
Closets and Storage
Windows and Lighting
Garage & Driveway area
Bedrooms and Bathrooms
The Kitchen
Entertaining Rooms
Special Amenities:

Fireplaces
Pools
Patios
etc.
Items to Help on Your Home Search
Go with Your Gut
Use your intuition to determine which house you will make your home.
We are here to guide you in selecting a home that meets your criteria and to point out defects in the house that will save you time and money. But in the end, it is not our choice which home you decide to purchase.
We want you to be happy with and to be proud of your purchase.
The decision is up to you!
Find Your Sedona Property
This section makes home buying easy. Well that was an exageration! It helps to describe the process of home buying by explaining how we navigate the Real Estate Buying Process here in Arizona. Some of the steps may be the same as they are in your area, but some may be different. If at any time along the way you have questions, don't hesitate to let us know. We will do our best to clarify the confusion and alleviate the uncertainty in the process.
How to Start Your Search
Begin your home search with wide search parameters. Through elimination, narrow your search strategy to your "needs" & "wants." Start by defining which areas in the Sedona - Verde Valley may suit your lifestyle. Determine where you do or do not want to live, in order to guide us on your Property Search. From there, pair down your "needs" & "wants" list to the most important items. We will do our best to make sure your "needs" are met, and help sneak in as many of your "wants" we can!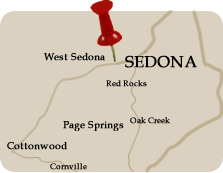 Think about things like proximity to:
Your work
Shopping
Schools
Places of Worship
Public Transportation
Take a Property Tour
When touring property, don't expect to see 15-20 pieces of real estate on your first day. We have found, more or less, seven properties is the average number buyers can see in a day, while still distinguishing differences. We have found typically after viewing seven homes, the brain goes into overload and you most likely merge features from different properties. We don't want this to occur.
Note: If time limits your availability, we can absolutely adjust the schedule. However, it is best to pace yourself on your search if at all possible
We have also noticed, along with numerous studies, that your memory slows after the consumption of sugar. The studies show that eating a hearty meal improves your energy level. So before touring for Sedona Property, be sure to refuel and hydrate at one of our great local restaurants, rather than eating that sweet treat!
Rate Inventory During the Tour
When arriving at each home, take notice of things such as the location and surroundings. Bring a camera with you if you'd like and take a series of photographs for each of the properties we view. Along with your group of photos, you should have a notepad with detailed notes on each home. Pay attention to unusual design elements of the home such as features and colors.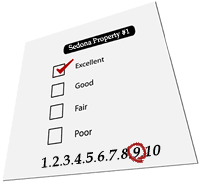 Ask yourself:
Where is the home located in the subdivision?
Is the home located in a cul-de-sac?
Does it have easy access to the main Highway?
Compare this Sedona Property to its neighbors'
What is your first opinion of the house's curb appeal?
Immediately after leaving the home, give it a rating from 1 to 10. Write down unusual details for each property and rate each piece of real estate against the others on your tour. Be sure to keep your notes and photographs organized so you can differentiate each property!
Take a Second Look
After touring homes for a few days, you will most likely instinctively know which couple of homes standout. Ask to see those properties again. While viewing them the second time, look for details that may have been overlooked the first time around. Pay attention to the location of each property. You can change many details about a home, but you can't change the amount of sunshine your neighbor's shade trees block from your backyard or the noise from being located directly behind a Middle School.
Now is when we will contact the listing agent(s) to make sure no other offers have come in. We will also discuss details about the sellers' motivation. Once we have all of the information we can gather from this point, it's time to make an offer.
Make An Offer
During this process, we as Realtors® actually handle the paperwork. We will discuss the terms of your offer as well as cover the content in the contract. Included in the offer, we will need to demonstrate your capacity to pay for the property. We can achieve this through a meeting with a mortgage lender or if paying cash, a verification of funds at your depository bank will suffice, and presentation of Escrow Money (a good faith offer to complete the transaction). The mortgage lender will provide us with a Loan Status Report (or LSR) to accompany the offer.
A good resource for Sedona Buyers new to the Area: Sedona Buyer Advisory
Inspection Period
Once the offer has been accepted, we begin what is known as the "Inspection Period." During this time, the seller of the property will make the home available for us to complete any inspections we deem necessary of the premises. The length of the Inspection Period can vary, and typically does as part of contract negotiations. Up until the expiration of the Inspection Period, the contract can be cancelled for any reason and the entire Escrow Money amount will be returned.
Once the Inspection Period is over, the Escrow Money is non-refundable unless financing cannot be obtained or the contract is mutually cancelled, with the seller forfeiting its rights to the money. This can be explained more in depth if needed.
Escrow Period - Closing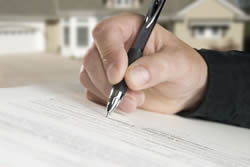 During the time you are obtaining financing and completing inspections, an escrow company is preparing the paperwork to transfer title of the property from seller to you. They will perform research to determine the seller's right to sell the property, verify all of the parties involved in the transactions carryout their duties and finally, the disbursement of funds. Once both you and the seller are ready close the transaction, the Escrow Company will facilitate the final paperwork and disburse the funds to the appropriate sides. Once this is complete, you will be the new owner of a piece of real estate in the state of Arizona and the wonderful place we call home.
If you have any questions about any part of this process, Contact Rob & Pam Schabatka and we will do our best to clear up any confusion. If you are ready to start the process, check out our Free Sedona MLS Search. We hope to hear from you soon and let us know how your "needs" & "wants" lists are coming through.