Sedona Golf Courses
For the golf lovers out there, the following list of courses gives you insight into playing and housing opportunities along the fairways of some of the most beautiful scenery in the nation. Take a look at the course descriptions below and play a round of golf at the course of your liking. If during your round you decide there is a potential home you would like to preview, give us a call and we will set up the opportunity for you to experience one of the many stunning golf course communities in our area.
Sedona, AZ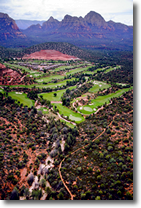 Seven Canyons
West of downtown Sedona and near the Enchantment Resort, Seven Canyons is a private golf club and ownership resort. Bradley Klein, architecture editor of Golfweek Magazine, wrote "Seven Canyons is the "IMAX" of golf." This 18 hole, par-70, course has over 6,746-yards of length. The course opened in 2002 and has since been one of Sedona's crown jewels for golf enthusiasts.
Seven Canyons is highly regarded by many golf publications, including the Golf Digest Index, which ranked Seven Canyons as one of America's 50 Greatest Golf Retreats. This Sedona golf course was originally exclusively a private club with the best-of-the-best amenities, personnel and astonishing views. In the recent past, the course was opened up temporarily to the public. However, as of this writing, the course has returned to a solely private membership club. Please check with course management to determine the current status of membership opportunities.
In addition to its beauty, Seven Canyons has an abundance of Seven Canyons Residential Villas for Sale and Residential Lots for sale surrounding the course. If any of these opportunities interest you, please feel free to Contact Us for more information. They may be the perfect opportunity for the golf enthusiast looking to secure prime real estate at one of the most scenic courses in the nation.
Village of Oak Creek - Sedona, AZ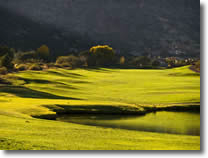 Sedona Golf Resort
Located in the Village of Oak Creek and centered in the majestic Red Rocks of Sedona, this 6,646-yard, par-71 course is truly one of the most memorable and impressive golf experiences in the Southwest. Golf Digest rates Sedona Golf Resort as a 4-star course which captivates its players with breathtaking views from each hole.
After your game, enjoy lunch at the newly remodeled Juniper Bar & Grille. Open to the public, Sedona Golf Resort is the perfect place to take pleasure in a challenging round of golf while the exceptional beauty of Sedona's Red Rock Country puts one in awe. Please feel free to contact us by phone or Email for more information on home buying opportunities in the communities surrounding the Sedona Golf Resort area.
Check out this link for a preview of Sedona Golf Resort Homes for Sale.
Oak Creek Country Club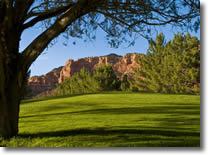 Designed by Robert Trent Jones Sr. and Robert Trent Jones Jr. the Oak Creek Country Club golf course is situated in the Village of Oak Creek and is surrounded by magnificent Sedona scenery and lush vegetation. Being Sedona's first golf course, this championship, 18 hole golf course is truly unique when compared to Sedona's other courses. Oak Creek Country Club is traditionally laid out, similar to the courses of the Midwestern United States. It consists of over 6,824 yards, three lakes and winding fairways lined with trees. New renovations such as concrete cart paths, makes this Sedona, AZ golf course one-of-a-kind when it comes to public golf courses. For more information on home buying opportunities surrounding the Oak Creek Country Club, or any other Sedona community, please contact us by phone or by Email. Click the link to check for available Sedona Homes near Oak Creek Country Club. Good luck and enjoy your round.
9-Hole Courses
Canyon Mesa Country Club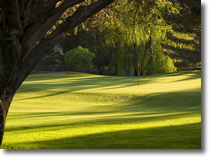 If you are looking to practice your golf game at an affordable price while taking in the beauty of Sedona's panoramic scenery, no place is better than Canyon Mesa. Located in the Village of Oak Creek, Canyon Mesa has 9 holes, over 1,265-yards, a par of 28 and is open to the public. It is full of narrow fairways lined with trees and townhouse/condo homes. Truly the ideal place to focus on your short game skills and perfect your swing!
In addition, the community surrounding this course has been grandfathered to allow for vacation rentals. This opportunity gives the investment on one of these townhomes an advantage when compared to other Sedona Properties. Give us a call, or Email Us for more information about this process. Click the link to check for available Sedona Property near Canyon Mesa Country Club.
Golf Courses near Sedona, AZ
Verde Santa Fe Golf Course is only a 20 minute drive from Sedona. It is surrounded by Verde Valley's Black Hills and has Mingus Mountain Views as a backdrop. Verde Santa Fe is a gated golf course community located in Cornville, AZ, situated perfectly between scenic Sedona and historical Cottonwood. Click Here for available Verde Santa Fe Golf Course Homes for sale.
If you are looking for tall pines and a little more challenging experience, take another scenic drive through the Oak Creek Canyon and play golf in Flagstaff, AZ. Located only 30 miles north of Sedona, Flagstaff boasts some of the best weather in the area during the summer months. Continental Country Club and Forest Highlands Golf Club are two of Flagstaff's very best courses.
For more information regarding golf course communities, or any Sedona communities, don't hesitate to Contact Us or Search Our Free Sedona MLS!