365 Reasons to Live in Sedona
#86 - Convenience to San Diego
Whether you are escaping Arizona's summer heat or warming up in the winter, San Diego is a must do vacation for all Sedona residents. Over the years we have made the drive to San Diego numerous times and we always come home to Sedona more appreciative than when we left....
Click for full article: Convenience to San Diego.
#3 - Slide Rock State Park
Formed naturally in Sedona's Red Rocks, the snow melt creating the Oak Creek flows South of Flagstaff into the ideal natural waterslide known as Slide Rock State Park. Popular to both tourists and locals, Slide Rock has both historical and outdoor attractions...
Click for full article: Slide Rock State Park.

Buyer & Seller Tip of the Month
Buyers
Top 3 Mistakes to Avoid
When Submitting an Offer
Last year (2016) we successfully represented the most buyers in Sedona, compared to our Sedona Realtor colleagues. While most of our clients purchased the home they desired, some missed out on great opportunities due to multiple offer situations. While Sedona is teasing us with a possible Sellers' market, let's discuss how you can put your best foot forward when making an offer.
Here's our Top 3 Mistakes to Avoid When Submitting an Offer
1. Lowballing
The days of making lowball offers, are behind us. Most Sellers have priced their Sedona Property at fair market value or just above, leaving a small negotiation buffer. When buyers present a lowball offer, they risk offending the seller and eliminating a possible counter offer. Looking at the stats for January-May 2017, the sale price/list price ratio is 96.66%, keep this in mind when lowballing sounds appealing.
2. Delaying
As the Days on Market continue to decline and the median price rises, we are finding buyers who wait to make an offer are missing out on good properties at good prices. Because you have an inspection period where you can cancel if the property turns out to not be the right fit, we suggest making an offer asap when you find an ideal property.
Another delay we suggest avoiding, if possible, is a prolonged close of escrow. Even if your ideal moving timeframe may be a few months out, we suggest closing as soon as possible. Most sellers are ready to move – the sooner you can make this happen, typically is best. It even can give you a bit of negotiation power regarding purchase price.
3. Not Presenting Yourself Well Enough
Purchase price is always the #1 thing Sellers focus on. However as any Sedona Realtor will recommend, Sellers must also factor in the terms of the offer to choose the strongest offer. Presenting yourself in the best light is always our top priority as a buyer's agent. Answer the Sellers questions without them having to ask: Are they qualified? Always talk with your lender ahead of time and have a Pre-Qualification attached. If you are paying with cash – have a proof of funds letter from your bank.
Are they serious? The earnest deposit is your way of telling the Seller you are serious. We suggest upping your earnest deposit as much as you can.
Is this the best offer? When comparing multiple offers we always look at the purchase price 1st, and the financing section 2nd. If the Sellers are choosing between two offers – one cash & one with a loan – typically they will lean towards the cash offer because there is no financing contingency and no appraisal required. If you have the option of purchasing with cash (even if you plan on having a mortgage), we recommend that you do so, you can always refinance later. Remember: cash is king!
What will I (the seller) net? Additional contract terms include who pays for the appraisal, assessments, HOA transfer fees, the Buyer's Home Warranty, and any other items the buyer is asking for, such as seller concessions or cleaning. Keeping these items split 50/50 or paid for by you, the buyer, may allow your offer to be more appealing than another offer even if they have a higher purchase price.
Bonus: Waiving the Inspection Period
While waiving the inspection period may make your offer favorable to the sellers, we highly advise against it. Every home, whether new construction or purchased from family/friends, should be inspected. As a result of waiving the inspection period, your earnest deposit becomes non-refundable. It is simply not worth the risk to skip inspections when you're making one of the largest financial decisions of your life. If you want to be appealing to the seller, you can offer a shortened inspection period – just never waive it!
In short, if you are serious about purchasing a specific property, rely on your Sedona Realtor to advise you on making a strong offer. If you are considering purchasing a Sedona Home, don't hesitate to contact us, we're here to help!
For more home buying tips, click for our Sedona Home Buying Guide.
Sellers
3 To-Do Items Often Overlooked by Sellers
Preparing to list your Sedona Home is a process. Many items make it onto your selling to-do list, and as much as we hate to add more, there are 3 additional items that we have found helpful to have when selling your Sedona Property.
1. Locate Your Property Boundaries
Typically a survey is suggested for large parcels of acreage and/or properties outside of a subdivision/planned community. If your property is located within a subdivision, we still suggest that you find the property corners and make them visible to potential buyers. You can spray the corners with orange paint or even place some sort of a monument near the location(s). Doing this will save potential buyers time and can give them a better glimpse into what owning your property entails.
2. Make a List of Improvements
Creating a detailed list of your recent improvements can help support your asking price and can show the pride of ownership you have for your Sedona Property. Especially if you have completed a major remodel, we suggest listing the improvements you've made during the time you've owned the property. Buyers are always curious as to what dates major work has been completed. Having such a list handy for potential buyers may save you time later on. It may even help you differentiate yourself from some of the other Sedona Real Estate Listings that are your competition.
3. Gather Utility Bills
Another trend we have noticed recently is that buyers are asking for recent utility bills. As you know, Sedona is a place where everyone is from somewhere else. Most people come to Sedona from climates with extreme weather. Having recent utility bills allow buyers a glimpse into what costs they will incur as the new owners of your Sedona Property. Most utility companies have a spreadsheet format of the previous year's bills/usage. If you gather these ahead of time, we can provide them to potential buyers when asked. This is another way to set yourself apart from your competition in the Sedona Real Estate Market.
Have you considered selling your home? Now is the time! The Sedona market has steadily improved and is moving towards a seller's market. If you need a comparative market analysis (CMA), contact us today.
For more Selling Tips, or ideas to Stage Your Home, visit the Sedona Property Selling Tips on our website.

Feature Sedona Subdivision
La Barranca
Set off of Jacks Canyon Road in the Big Park area of Sedona, La Barranca is a luxury home, gated community that has unique views of Sedona Red Rocks.
For more information about La Barranca Properties for sale or Subdivision Details please don't hesitate to Contact Us at 928.821.3508 or 928.282.4166 ext 253.
La Barranca
Did you enjoy the video tour of this subdivision? Take a look at the link below and see if there are any homes that meets your needs. La Barranca, located in the Big Park area, is a great place to enjoy all things Sedona. Click below to view:
Featured Properties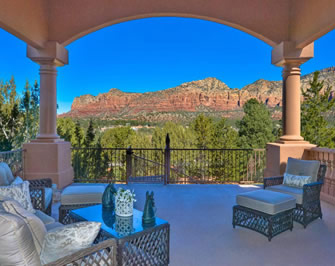 70 Granite Mountain Rd
Luxury estate located in the gated community of La Barranca with jaw dropping Red Rock Views. Built high on the lot to capture Sedona's famous red rocks! This custom home features the finest materials and designer touches which are apparent in every detail. Two master suites, guest suite, one of the most beautiful kitchens with upgraded...
For more features & information on this Sedona Home please Email Rob & Pam - or give us a call 928.821.3508.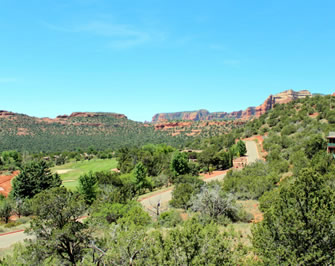 5 Paseo Del Inez
Luxury custom building lot overlooking Seven Canyons 18 hole Golf Club. Panoramic views of the golf course as well as the famous Sedona red rocks. Enjoy the stunning red rock views, exquisite sunrises and magnificent sunsets. Owner may carry with 20% down.
Call Rob for more details about this opportunity to own Sedona Land - 928.821.3508 or Email Us.

Recipe of the Month
Grilled Cilantro-Lime Chicken with Avocado Salsa
Ready in 30 Mins. | Serves 4
Ingredients
Chicken
4 (6 oz) chicken boneless skinless chicken breast halves
1 Tbsp lime zest
1/3 cup fresh lime juice
1/4 cup olive oil, plus more for brushing grill
1 1/2 tsp honey
1/3 cup chopped cilantro, plus more for serving
3 cloves garlic, minced
Salt and freshly ground black pepper
Salsa
1 1/2 medium avocados (ripe but semi-firm), diced
2 medium Roma tomatoes, chopped
1/2 cup chopped red onion, rinsed under cool water to remove harsh bite
1 clove garlic, minced
1 Tbsp fresh lime juice
Directions
Place chicken on a cutting board, cover with a sheet of plastic wrap and pound thicker parts of chicken to an even thickness.
Transfer chicken to a gallon size resealable plastic bag.
In a small mixing bowl whisk together lime zest, lime juice, olive oil, honey, cilantro, 3 cloves minced garlic and season with 1 tsp salt and 1/2 tsp pepper.
Pour marinade mixture over chicken in bag. Seal bag while pressing air out, then rub marinade over chicken.
Allow to rest in refrigerator 2 - 4 hours (rotating bag to opposite side and moving chicken around halfway through if possible to ensure it's evenly marinating).
Preheat a grill over medium-high heat (to about 425 - 450 degrees). Brush grill grates lightly with oil then grill chicken until center registers 160 - 165 degrees on an instant read thermometer, about 4 minutes per side. Remove and let rest 5 minutes.
Meanwhile, in a medium mixing bowl toss together avocado, tomato, onion, garlic and lime and season with salt and pepper to taste.
Spoon a generous amount over chicken and sprinkle with chopped cilantro. Serve warm.
Please Help Us Improve
Service Reviews have become a hot commodity on the web. We can tell future clients how hard we will work for them, but it always comes better from a third party. If you haven't had a chance, please take a moment and let us know how we did. For those of you that have already helped out, thank you once again.
If you have any difficulty, let us know and we can walk you through the process. Thanks again for your time!
Our Pledge...
We know that buying and selling a home is an exciting, but stressful experience. We will do our best to make sure you are informed and comfortable throughout the process.
We know the local inventory and are up to date on current market conditions. We will be truthful in our assessments and will strive to make your dream of buying or selling a Sedona Property a success! Give us a call today and schedule an appointment to see great Sedona Real Estate Deals.